HOWDY, PARDNERS!!

FINALLY !! Here it is!! The long awaited, definitive book on the TV westerns, the real life cowboys and gunfighters that inspired them and the cap guns, rifles and holster sets that made us 'one of them' when we strapped them on as youngsters!! I hope that this exhaustive study will bring back fond memories of your childhood, growing up in a more gentle America when we had real role models to look up to!

This book was a labor of love in memory of my younger brother. I hope that you will find it interesting and enjoyable. After you have finished reading it, I would welcome your comments. Sit down and write me a letter, the old fashioned way. Let me know if you thought about Mom and Dad, that cute little cowgirl (or cowboy!) next door, and the wonderful memories of the Golden Age of Westerns! Let me know about the great neighborhood gunfights you won, that special Christmas perhaps, when you got your great set of Roy Rogers holsters or that Gene Autry six-gun! Let me know about how you did your chores, studied in school, worked hard, served and prayed for our Country, apologized for and took responsibility for your mistakes. Alas, it was the America we once knew!

Let me know that these same heroes are just as vivid in your mind now as they were when we watched them wave good-bye and ride off at the end of the show! Let me know how you've lived with the Code of The Lone Ranger, Hopalong Cassidy's Creed and the many wonderful values, ethics, morals and principles that made our generation special!

If you enjoy this book, PLEASE tell a friend or loved one. Better yet, give one as a gift to someone you love that loves westerns or that grew up in the 50's. We need so desperately to get the message across to America's younger generations that our role models were for real !! Write to me anytime. I will always respond! I hope that you will enjoy long hours of reading enjoyment and happy memories with your copy of:

Television's COWBOYS, GUNFIGHTERS AND CAP PISTOLS!

Don't Miss Out ! Reserve Your Copy Now!

Over 500 color and 300 b&w photos! 288 pages! 8.5x11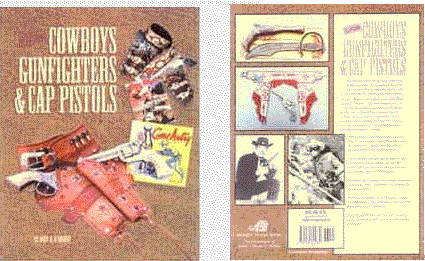 Stunning, colorful deluxe front and rear covers!
ISBN: 0-930625-83-8 *
All books ordered from this website are numbered and personally autographed and dedicated by the author. When ordering, please specify to whom and how you would like you copy signed.
Just $ 31.95
plus shipping & handling
To order, send a check or Money Order to:
Rudy A. D'Angelo
P.O. Box 350
Farmington, Connecticut 06034-0350
Phone (860) 674-9422 Fax (860) 677-7433
First Book $4.00 shipping & handling (First Class) (Each Additional book add $1.00)
Connecticut Residents Add 6% Sales Tax ($1.92)
Inquire about dealer and wholesale discount schedules.
A GOOD BOOK: THE GIFT THAT IS NEVER FORGOTTEN !
Last update: 07 October 2000